Fun Frozen Jello Grapes
I am always trying to come up with healthier snacks and meals for my family. Coming up with healthier snacks for kids is a little more difficult than coming up with snacks for myself. These Fun Frozen Jello Grapes are a new favorite in my house. Not just for the kids, I love them too!
*Disclaimer: Please note that this post may contain affiliate links. I only recommend products that I believe in fully. See privacy policy for more information.
-PRINTABLE RECIPE BELOW-
Read full post for all recipe tips, details and how to get the recipe perfect!
Fun Frozen Jello Grapes
This jello with grapes recipe is going to be a new go-to in your house, I just know it. Frozen Jello Grapes are a fun and delicious snack that you can feel good about your kids (and yourself) eating. You only need a two simple ingredients to make this grape recipe. Making these Jello Grapes would be a great opportunity to get the kids in the kitchen!
Ingredients
-1 0.6 oz box of sugar free jello
-2 cups grapes of your choice
That is all you need!
This jello recipe gives you a lot of different combinations to choose from.
There are SO many different flavors of jello. When picking a jello for this recipe, you want to pick one that meets the health needs of your family. Jello brand has at least 8 different sugar free flavors. If you choose a red jello, it does stain fingers a little bit, so beware of that.
My go to jello is Simply Delish, this brand is sugar free and dye free. We don't eat food dye in our house because of the effects on behavior. If you are unfamiliar, check out this article to see why you should ditch the food dye. Simply Delish brand has multiple flavors as well.
After you choose your jello, then pick what kind of grapes you want. Purple, red, or green, there are multiple choices.
Have you heard of cotton candy grapes? They taste just like cotton candy, pick these ones, and then coat those in jello, how awesome would those taste?!
Related: Oatmeal Almond Butter Chocolate Cups
How To Make Fun Frozen Jello Grapes
Now that you know all the different combinations you can choose from, you need to know how to make these yummy Jello grapes.
It's so simple, like really really simple.
-First, remove the grapes from the stems.
-Wash them thoroughly.
Here's how I wash my fruit.
Mix 1 part vinegar with 3 parts water in a large bowl.
Place the grapes into the bowl.
Let sit about 5 minutes.
Transfer grapes to a colander and rinse.
Now your grapes are clean!
-After you have washed your grapes, leave them wet and put them into a large zip lock bag.
-Pour the jello into the bag.
-Shake it all around to coat the grapes.
-Remove the grapes from the bag and place onto a plate or cookie sheet and pop them into the freezer.
-Let freeze then enjoy. You can keep these in the refrigerator if you prefer. The jello does not stay on as well this way, but they are still delicious.
Instead of the bag you can also roll the grapes around in the jello one by one. My kids really love doing it this way, especially licking the extra off their fingers. This way coats the grapes evenly, it's a little messier but fun!
Related: Healthy Banana Oatmeal Muffins- 2 Ways
This jello grape recipe is perfect in the summer on those hot days. Fun Frozen Jello Grapes would also be a great dessert or snack to bring to a party. You can mix and match different flavors and have rainbow grapes! 🙂
Have you made jello grapes? What combination is your favorite?
Yield: 2 cups
Fun Frozen Jello Grapes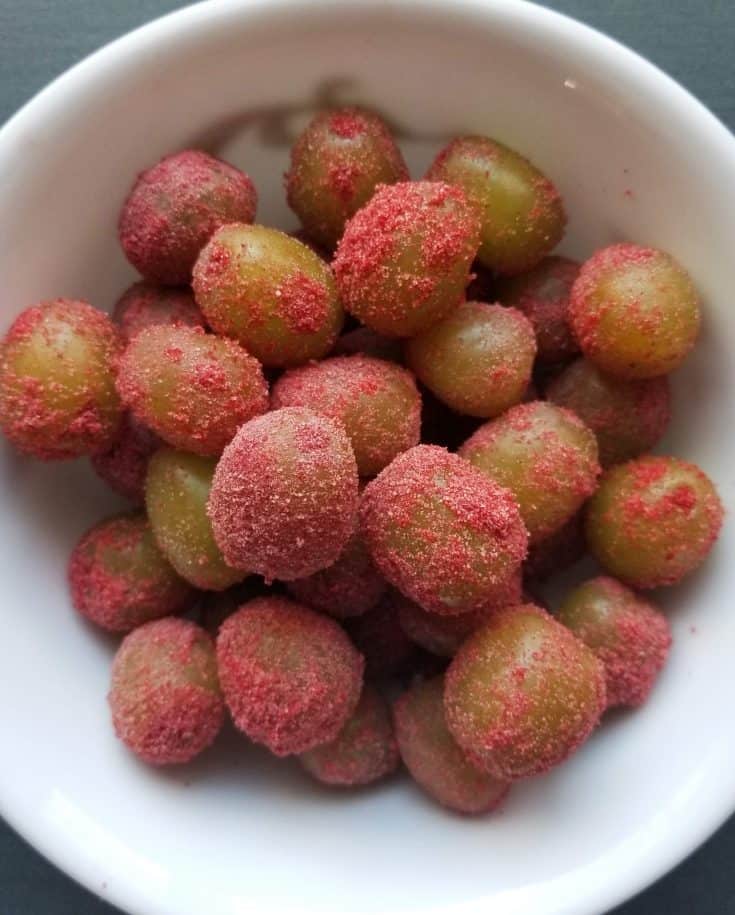 Healthier than candy, delicious frozen jello grapes!
Ingredients
1 0.6 oz sugar free jello
2 cups grapes
Instructions
Remove grapes from stem
Wash grapes (fruit wash instructions above), leave them wet
Place grapes into gallon zip lock bag, pour jello on top
Seal the bag and shake to coat the grapes
Remove grapes from bag, place onto plate or cookie sheet.
Freeze and enjoy!
Recommended Products
As an Amazon Associate and member of other affiliate programs, I earn from qualifying purchases.
Nutrition Information:
Yield:
4
Serving Size:
1/2 Cup
Amount Per Serving:
Calories:

37
Total Fat:

0g
Carbohydrates:

10g
Sugar:

7g
Nutrition is calculated with products I use, therefore it is not always accurate. The recipe and directions posted here are property of Cakes to Kale and subject to copyright. You may not screenshot this recipe for sharing on social media.
If you try this Jello Grape Recipe, please leave a rating and let me know in the comments below. I hope you love this as much as we do!
Be sure to tag #higherstarr on Instagram and Facebook if you make any of my recipes, I love to see them and share them!

Social Media Images Fun Frozen Jello Grapes
---
---